Pressure Trucks
Mike's Oilfield Services Ltd. currently has 7 pressure trucks, in its fleet for all your servicing needs. Each pressure truck is equipped with a low pressure load/unload pump as well as a high pressure triplex and high pressure hoses. Our operators are experienced in all aspects of pressure truck work relating to well servicing, hydro testing, inhibitor jobs and chemical jobs and are clean fresh water only (except for chemicals). All different size pressure trucks for different jobs – big or small.
Need an accurate feed rate? We have digital flow meters which can be used to satisfy your needs. Two different products to haul? Our tanks are equipped with two compartment tanks for those special jobs. Data Tech computers to record pressures and rates.
Please call 1 (780) 875 -1561 for rates and any other information you may require.
Unit # 880 – 2007 Kenworth T300 4×4 pressure truck – Single Axle
4 Cu. meter aluminum 2 compartment tank.  Gardner Denver Tri-Plex pump, variable speed, hydraulic driven and capable of 3250 P.S.I.  Designed for slow cement squeezes and flow line testing.  The truck is equipped with a computer system that gives a flow rate and pressure readout on a panel.  The system is also capable of providing a graph printout with flow rate, pressure and time values.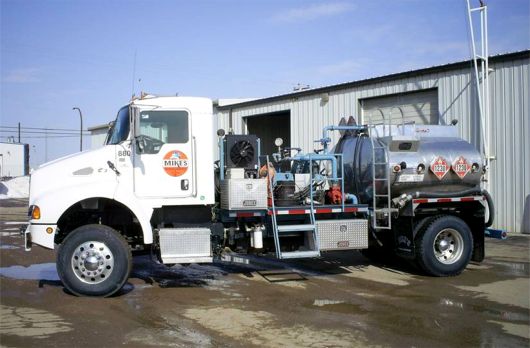 Unit # 887 – 2019 Western Star Pressure Truck Tridem
15 Cu. meter 2 compartment tank. 4×5 Gordner Denver tri-plex pump capable of 6000 psi .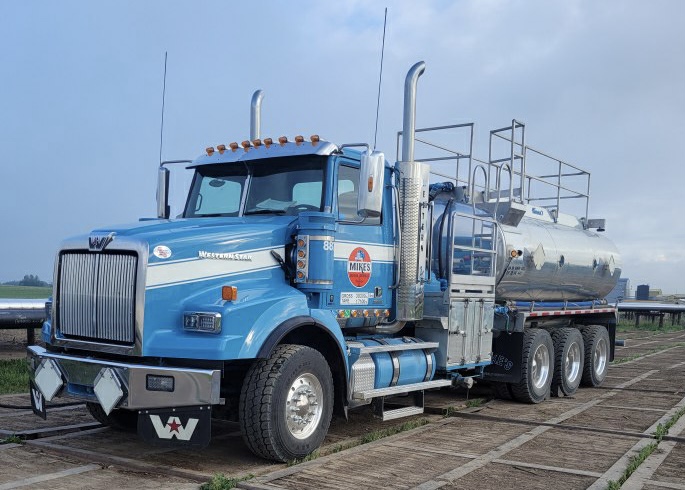 Unit # 883 – 2013 Western Star pressure truck tandem
13 Cu. meter 2 compartment tank.  4×5 Gardner Denver Tri-Plex pump capable of 6000 P.S.I.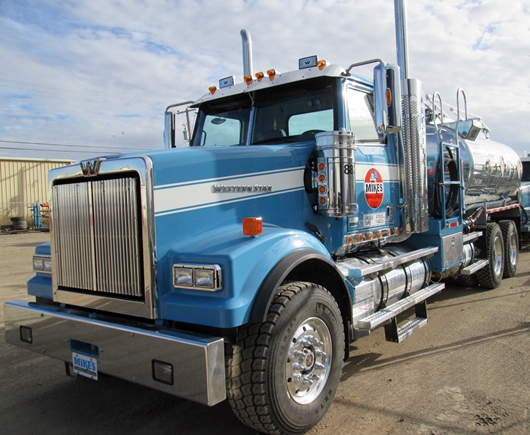 Contact Us
780-875-1561
Phone
888-875-1561
Toll Free
780-875-7880
Fax
admin@mikesoilfield.com
Email Us