Air Unit
This truck is a one of a kind unit. THERE IS NO OTHER LIKE IT IN ALL OF THE WORLD. It provides all your high volume and high pressure needs on one single body job truck.
Under Balance Drilling
AIR DRILLING
FOAM DRILLING
MIST DRILLING
STABLES FOAM CLEAN OUT
WELL BLOW DOWNS
Pipeline Testing
PIGGING
COMPRESSORS TO 1350 C.F.M.
BOOSTERS TO 3000 P.
For pipeline testing, we can offer many different scenarios ranging from 1350 C.F.M. Output right down to 350 C.F.M. Output.
These 2 units can be used together to cut down on pump time.
These units can be combined with any one or more of our other 7 units to provide shorter pump times on larger projects. All our units pump air just a few degrees above ambient, which results in minimal stabilization time.
For information on pricing and availability of the unit, please feel free to call us here at Mike's Oilfield Services Ltd.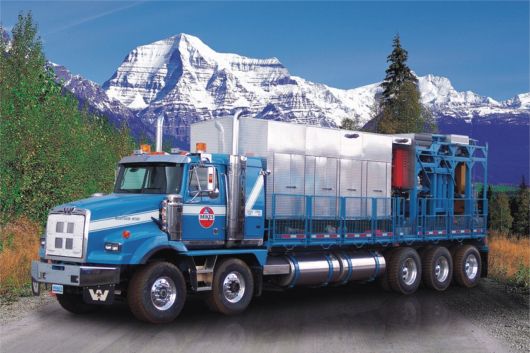 Contact Us
780-875-1561
Phone
888-875-1561
Toll Free
780-875-7880
Fax
admin@mikesoilfield.com
Email Us